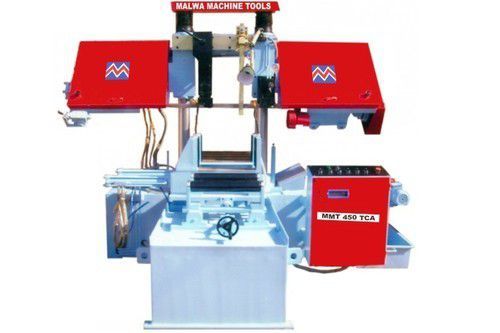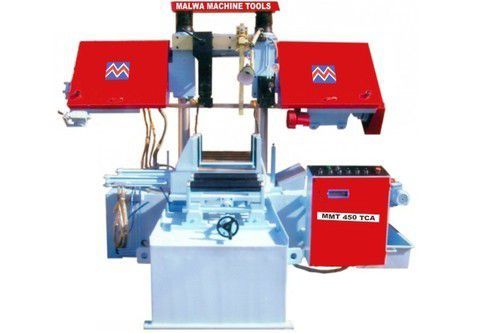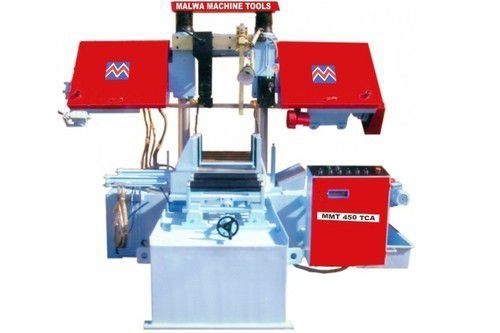 Price And Quantity
525000.00 - 4011000.00 INR/Piece

1 Piece
Trade Information
4 Piece Per Month

15 Days

All India
Product Description

Twin Column Metal Cutting Semi Automatic Band Saw Machine
MMT - 400 TCSA Technical Offer
Cutting Capacity: - Square - 400x400mm & Round 400mm.
Clamping Capacity:- 50mm. to 400mm.
Cutting Accuracy & Cut Face:- 100mm + 0.1mm.
Cutting Speed: - 20 to 100 mtr./min.
Hardness to be cut: - 70 to 350 BHN.
Maximum weight can be placed on the Machine:- 1.2 Tons.
Bi- Metallic Band Saw Blade:- 4860x41x1.3mm.
Infinitely variable pressure controlled cutting feed and upward return rapid movement by hydraulic cylinder.
Automatic height adjustment for saw frame to save cycle time.
Tungsten carbide face guides with ball bearings.
Adjustable & Movable Dovetail type Heavy duty Movable Blade guide.
Separate Bearing housing being provided to absorbed the axle load due to hydraulic tensioning.
Cutting feed synchronizes to Band speed. If you reduce band speed automatically cutting feed will reduce (Optional).
Tachometer use for running at the proper band speed is essential for optimum blade life.
Hydraulic Blade tension and tension releases, no sooner machine is off to minimize fatigue stresses.
Safety Control System.
Hydraulic band tension with pressure gauge.
Hydraulic Main vice with Double Acting Hydraulic Cylinder.
Chips removing wire brush for band cleaning.
Coolant Systems.
Strainer system used for coolant filtration.
Power pack and necessary component.
In built Control panel with all necessary switchgears, fuses indicators & push buttons & mounted on machine.
Saw motor - 7.5H.P.
Hydraulic motor - 1.5H.P.
Coolant Motor - 0.16H.P.
Supply - 440 V ± 10 % 50 Hz, 3 Phase A.C. IP 54

MMT - 450 TCSA Technical Specifications
Cutting Capacity: - Square 450x450mm, Round 450mm.
Clamping Capacity:- 50mm. to 450mm.
Cutting Accuracy & Cut Face:- 100mm + 0.1mm.
Cutting Speed: - 20 to 100 mtr./min.
Hardness to be cut: - 70 to 350 BHN.
Maximum weight can be placed on the machine:- 1.5Tons.
Bi-Metallic Band Saw Blade: - 5800x41x1.3mm.
Floor area for machine:- 3355x1525mm.
Infinitely variable pressure controlled cutting feed and upward return rapid movement by hydraulic cylinder.
Automatic height adjustment for saw frame to save cycle time.
Tungsten carbide face guides with ball bearings.
Adjustable & Movable Dovetail type Heavy duty Movable Blade guide.
Separate Bearing housing being provided to absorbed the axle load due to hydraulic tensioning.
Tachometer use for running at the proper band speed is essential for optimum blade life.
Hydraulic Blade tension and tension releases, no sooner machine is off to minimize fatigue stresses.
Safety Control System.
Hydraulic band tension with pressure gauge.
Hydraulic Main vice with Double Acting Hydraulic Cylinder.
Double Cylinders in Up down Motion for smooth running.
Length setting mechanical stopper.
Chips removing wire brush for band cleaning.
In built front roller table for job resting & smooth feeding.
In built rear roller table for cut piece resting.
Coolant System.
Strainer system used for coolant filtration.
Power pack and necessary component.
In built Control panel with all necessary switchgears, fuses indicators & push buttons & mounted on machine.
Hydraulic Pusher (Material Feeding Arrangement) -(Optional)
Saw motor - 7.5/10H.P.
Hydraulic motor - 1.5H.P.
Coolant Motor - 0.16H.P.
Supply - 440 V ± 10 % 50 Hz, 3 Phase A.C. IP 54.
If you need any further clarifications, please feel free contact to us.
Other Products in 'Metal Cutting Horizontal Band Saw Machine' category
"We are looking for inquiries mainly from North Region"
Get in touch with us